How to create a men's capsule wardrobe
Would you like to feel comfortable and confident in the clothes you wore every day, whilst making the minimum of ongoing effort to maintain looking good. If so, than a capsule wardrobe could be for you!
Now nothing worth having comes easy, but in reality with a small amount of investment in your time and the other investment going into your wardrobe, you are not far away from looking good daily, improving the first impressions you make and feeling a load more confident.
If you dislike shopping or hate coordinating outfits for work, leisure or trips away, you should read on.

a considered effort to streamline your wardrobe with fewer, but high-quality core items resulting in less time and fewer decisions to make when getting ready to go out.
WHAT IS A CAPSULE WARDROBE?

A capsule wardrobe is the result of a considered effort to streamline your wardrobe with fewer, but high-quality core items resulting in less time and fewer decisions to make when getting ready to go out. Importantly these items can be mixed and matched and will create multiple outfits. I believe this is the foundation block of a hassle-free and confident wardrobe.
Fewer items and the focus being on quality means you are less likely to make impulse purchases and more likely to take care of the items you own. Once you have this in place you are in the best position to start defining your personal style, build a signature look and have some fun feeling confident in what you wear.
WORKING OUT WHAT'S MISSING
The first step is to take inventory of the clothing you already own. Pull out all of the items in your wardrobe that you wear on a regular and occasional basis and put them into two piles: keep and donate. Be ruthless here. If you haven't worn an item of clothing in over a year there's a fair chance it qualifies for the donate pile. You should then split your keep pile repairs and alterations and items that can go straight back into the wardrobe.
Once you have done this, you'll have a better idea of what items you need to purchase. Please don't skip this part without taking positive action.

The image at the top of this page gives an indication of an Autumn/Winter capsule wardrobe. It contains 32 items but could easily be trimmed by 10 items if required, or items be swapped out if, for example, you weren't a fan of roll necks or hoodies.
A more detailed list of these items is at the bottom of this article. If you have anything missing from this list in terms of item type, I would seriously consider adding them to your missing list if you are looking for an adaptable and varied look.
Please remember to opt for quality over just filling the gap immediately and avoid all fast fashion brands. I'm not saying you need to spend £200 on a shirt, but equally if it's £29, you should be looking carefully at what you are getting fit, material and quality wise if you stumble across a bargain.
BEING INTENTIONAL WHEN SHOPPING
Physically go to the shops
Try before you buy ensuring the quality of items
Have a list and prioritise your items
Don't settle for 'ok'.

When you go shopping, have a list of what you need and try and go to the shops instead of purchasing online. Getting the fit right is important as well as being able to make a decision on the quality and desirability (does it work on you) of the item before it goes into your basket.
Get first things first. If it's winter, concentrate on your outerwear first, as this is what people are going to see you in mostly (first impressions) and how you may be seeing yourself most often when you are out. Putting a coat above a long sleeve t-shirt makes sense.
Remember too that you don't have to get everything in one go. This exercise is an investment in you, so it is important to find items that flatter you and not just items that do the job. Some items when put on in isolation like a jumper may not excite you, so, if possible, try things on as part of an outfit. Starting out in a tracksuit may not be the best call.

You don't need 100's of clothes to create varied looks and look stylish every day. That's the beauty of a capsule wardrobe, if you select your purchases well enough you can easily achieve effortless daily style in less than 30 items.
It isn't an exact science and there are so many variables in play, but that's the beauty of style. This capsule wardrobe could adjust greatly depending on your lifestyle/age/aspirations. Adding for example just a beige pair of chinos and excluding a jacket actually adds a number of new outfits.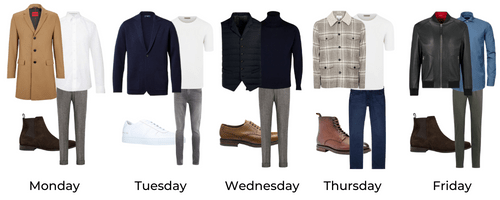 When choosing items, it is all about what can be mixed and matched. Don't worry about trying to remember outfit combinations in your head through. Stick to a neutral colour palette, such as black, darker blues, white, grey, brown (including beige and cream) and even olive. These colours are easy to mix and match as well as source and will help you build towards your capsule wardrobe.
TAKING INTO ACCOUNT YOUR LIFESTYLE & INDIVIDUALITY
Two massively important elements of any wardrobe are functionality and personality. You could use this article as a loose guide, but ultimately the clothes need to be fit for purpose, comfortable and reflect you in some way.
Where I have chosen a blue blazer, you can then choose structured or unstructured, depending on the formality you want it to have. It could more of a sports jacket than blazer (it's great to play with different textures and find out what you like). From a style point of view, it could have one, two or even three buttons, the options go on.
It tends to come down to what kind of job you have, where you spend the majority of your time and the impression you want to give off to others, obviously things like the weather come into play too.
What about the brightly coloured Cuban shirts you love? Well definitely don't get rid of those if they've passed through your initial wardrobe edit. A capsule wardrobe may seem quite basic, but it is designed to be the foundation of a wardrobe and can be all you need. However, mixing in your existing clothes allows you to add some flair, individuality and possibly colour to the strong base and ultimately create a load more outfit options.
IS A CAPSULE WARDROBE EVERYTHING I NEED?

Yes, it can be. If you don't have a real interest for clothes and want a wardrobe that is primarily fuss free and functional, then a capsule wardrobe gives you this. 16 items interchangeable items in your wardrobe gives you up to 256 outfit choices. Excluding the accessories, I have list 27 items of clothing, which would typically keep anyone going for quite a while.
What I have found useful is to keep the capsule wardrobe as my base. I know all these pieces work together, so if I need to get out the door quickly or not add outfit choice to my list of decisions in the day I know I'm good to go.
However, I love accessories, belts, pocket squares, watches, scarves, hats and a lot more. This gives me a lot more variety and choice if I want it and again I have strict rules around purchasing accessories, I have to love them and will 90% of the time try and buy quality similar to my take on the capsule wardrobe.

Colour in clothing is something that quite often alludes men when it comes to understanding what colours work for them and why. A capsule wardrobe doesn't massively promote bold colours admittedly. However as previously stated, a capsule wardrobe can serve as your core element or your foundation to clothing.
Your wardrobe as a whole should be made up of colours that complement one another and monochrome neutrals (dressing in the same colour, sometimes referred to as tonal dressing).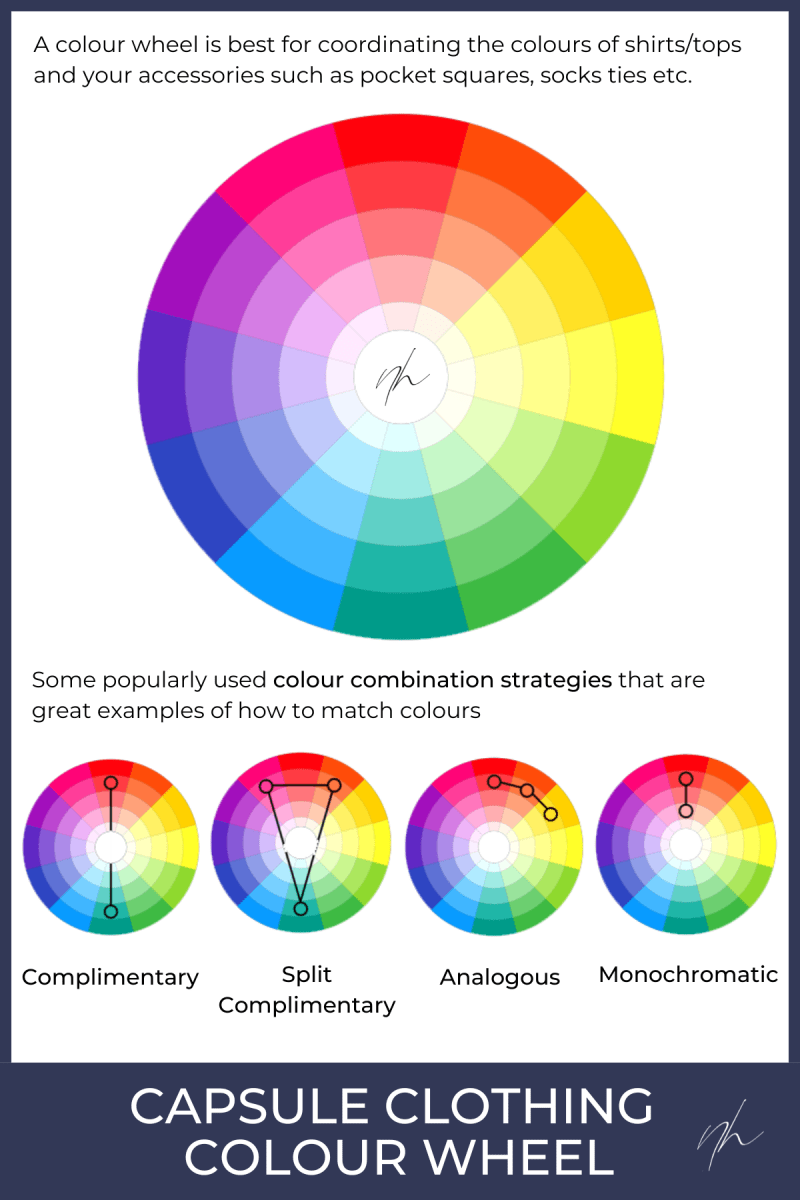 If you are looking to keep things simple and follow a tried, tested and successful route then check out the above colour wheel and observe the colour combination strategies listed.
Complementary – Colours that sit directly across from each other on the wheel. Using two opposites is great for a striking, bold look. An example where you may have used this would be pairing your formal blue shirt with a yellow or lemon tie.
Split Complementary – Colours that sit either side of the colour that is directly opposite on the wheel. The colours will naturally sit really well with each other, but won't be as striking as the complementary combination.
Analogous – These are colours right next to each other on the wheel. Less vibrant than the complementing strategy and a lot more 'safe' but definitely thoughtful.
Monochromatic – Different shades of the same colour. This is more of a conservative look, but can equally look extremely sophisticated when you get it right. It may be a light blue all the way to a royal blue or navy.
I'm not a fan of hard and fast rules in styling or overcomplicating the process for people looking to make fresh changes to their wardrobe by themselves, so don't feel you need to stick to the above rigidly. 
If you are shopping though it definitely pays to remember what's in your wardrobe so you can match things up faster and continue to build a wardrobe that is flexible and interchangeable, your clothes will also last you longer.
Where and how do i use colour in a capsule wardrobe?
I haven't yet touched on accessories. Accessories are really what can make the simplistic of looks pop or can add a touch of sophistication or playfulness to your style. With accessories the neutral colour guidance goes right out the window.
Use colour and accessories to really get across your personality or add some individuality to your look. Accessories can act as statement pieces and I'm, talking everything from pocket squares to socks to watches. Most men are well versed when it comes to what the perceived value of having a good watch is. Good doesn't also have to mean expensive.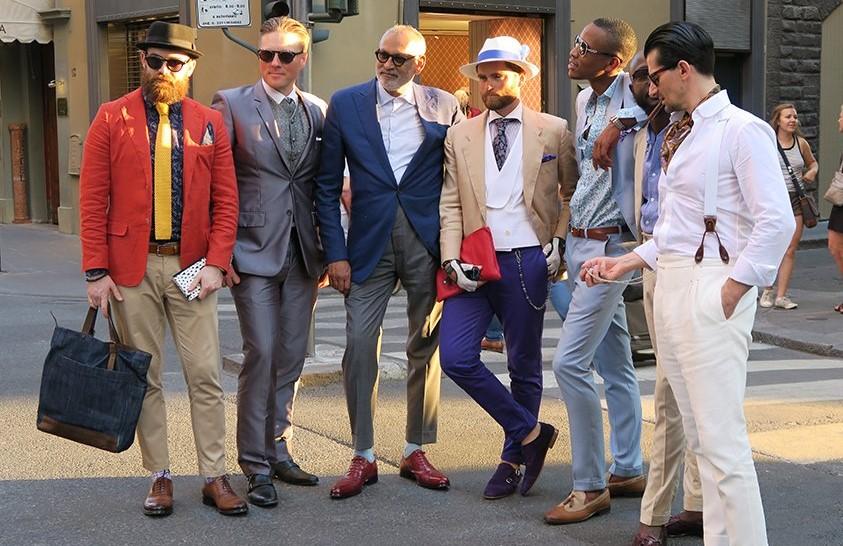 Once you have built up your capsule wardrobe or are on the way, dressing well definitely becomes an easier and less time-consuming task, however adding the flair with colour is something still to be played around with.

Here are some ideas;
Good quality richly coloured socks. These can be used to match another element of your clothing or you could use the colour combination strategies above against the trousers you're wearing.
A boldly coloured watch strap or watch.
A vibrant pocket square or tie.
A leather or fabric bracelet
A document holder or man bag.
Shoe laces for the more experimental of us (Paul Smith have done this famously over the years).
HOW MUCH WILL THIS COST ME?
It all depends on your budget and your openness to investing in clothes that will serve you well. In the interest of being transparent I added up the price of all the items in my above capsule wardrobe (32), they came to £5,610 when purchased new from a department store.
It will also depend on where you shop and the time of year you do it. I believe you could spend half that amount and still achieve fantastic results in one shop.
If you were a thrifty shopper and took your time to purchase the items across a 6-month period say, I am confident you could achieve the same results with the same or similar brands (designer) for £2,000.
The good news is you definitely don't need to buy everything at once. The benefits of doing so though do mean that you'll have variety straight away and your clothes will be less worn quickly as you interchange between them less frequently.
There are plenty of tangible benefits to having a capsule wardrobe. 
A more functional wardrobe that doesn't require you to plan ahead or waste time in the morning deciding what to wear.
Look smart and well put together at all times.
No more struggling to put outfits together that you feel confident in.
Less time spent in shops wondering what to buy and in what colour.
Packing is easier when spending nights away from home.
Increased quality in the clothes you own, meaning you'll not only look better for longer, but you'll feel it too. For the sceptics this point will need to be proven, but I can assure you, there is a marked difference, and once you feel it they'll be no going back.

Oh, and as this is my blog, if you really want to take all the pain away, you can just contact me and I can help you out!