10 Simple Ways to Make Your Clothes Last Longer
This guide is designed to help you change the way you treat your clothing forever. Not only that, it aims to help you guide your clothes purchasing to, so that you get more out of your clothes and always feel your best in them.
It may also help you to do your bit for the environment by not over washing them or sending them to landfill early. You'll save yourself money and effort too.
Before I begin, the biggest piece of advice I would give anyone caring for their clothes is also my biggest style tip. Invest in better quality clothing that fits you well, both of these factors will aid clothing longevity.
Here though are my 10 top tips.
Tip 1: Buy good quality clothing
Better quality clothing is made from stronger fabrics that will also typically look better on you. These fabrics are less likely to tear or pill, meaning they'll last longer.

Secondly, the construction of the clothing will be more durable, so the seams and stitching are stronger preventing the garment from fraying or falling apart. Buttons will often be more secure and any hardware on the clothing will also be of higher quality and less likely to break or get damaged easily.

Another major benefit is generally higher quality clothing is made using better-quality dyes. Items that fade over a short period of time look well worn quickly and we often lose the desire to wear them because we don't look as good in them anymore.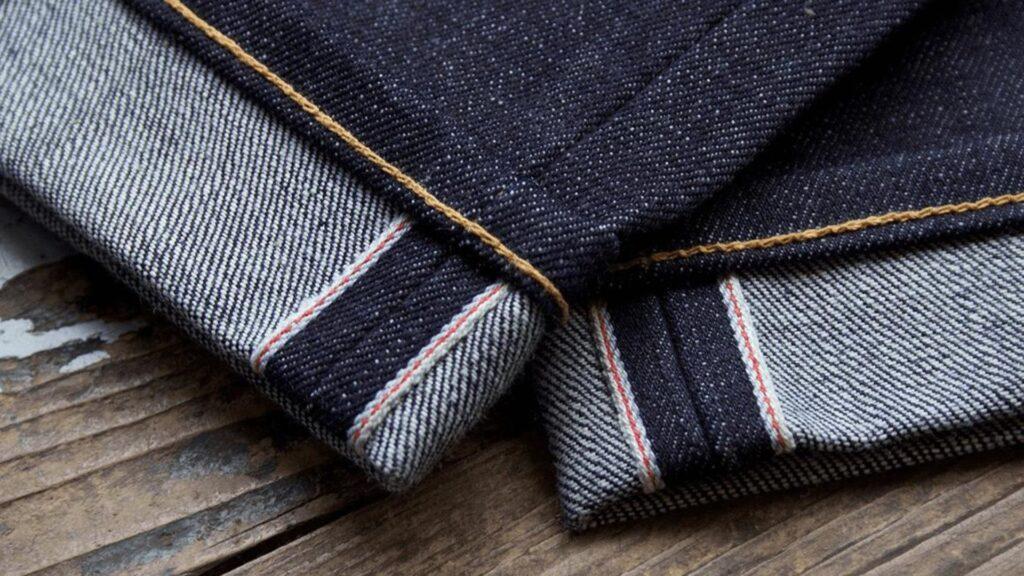 Tip 2: Check the labels before buying and washing
The first step in caring for your clothing is to consult the care labels. These labels will tell you how to wash, dry, and iron your clothing in order to protect it from damage. Follow these labels, that's what they're for. This same label will help guide your decision on whether you want to commit to buying also. 'Dry clean only' may put you off for example.
The same label or another one will tell you the fabric used. 100% cotton is great, but there are different types of cotton and the quality, durability and look and feel can vary greatly. For example, one of my favourite brands Sunspel sell their famous quality basic t-shirt in 100% cotton at £85. They also make a Sea Island cotton t-shirt which has the advantage of a longer staple fibre. Same cut, looks very similar, but is priced at £155.
Better material will naturally help your clothes last longer and look better on you.


Tip 3: Wash your clothing in cold water
Unless your clothing is heavily soiled, don't wash it in hot water. Hot water can damage the fibres in your clothing and shorten its lifespan. It can also shrink certain clothing, which I am sure we've all experienced to our pain before. 30 degrees is great and it's also kinder to the environment.
Tip 4: Use the correct detergent

Matching your detergent to the fabric of your clothes
Different fabrics require different types of detergent. For example, cotton fabrics should be washed with a mild detergent that is designed for delicate fabrics. Synthetic fabrics, such as polyester and nylon, can be washed with a regular detergent. Wool and silk should be hand-washed with a mild detergent specifically designed for these fabrics.
Using the wrong detergent can damage your clothes. For example, using a harsh detergent on delicate fabrics can cause them to shrink or fade.
Matching the detergent to the colour of your clothes
White clothes should be washed with a detergent that is specifically designed for whites. Fairy non-bio is a good example of this that won't break the bank. If you add in whitening booster like Vanish's Oxi action, then you really will make your whites stay true to their freshness.
Supermarkets are awash (sorry, pun intended) colour capsules and liquids These detergents are formulated to be gentle on colours and prevent them from fading.
As a side note realise if you live in a hard water area, you'll need a detergent designed for hard water. Hard water can cause detergents to not dissolve properly, which can leave residue on your clothes.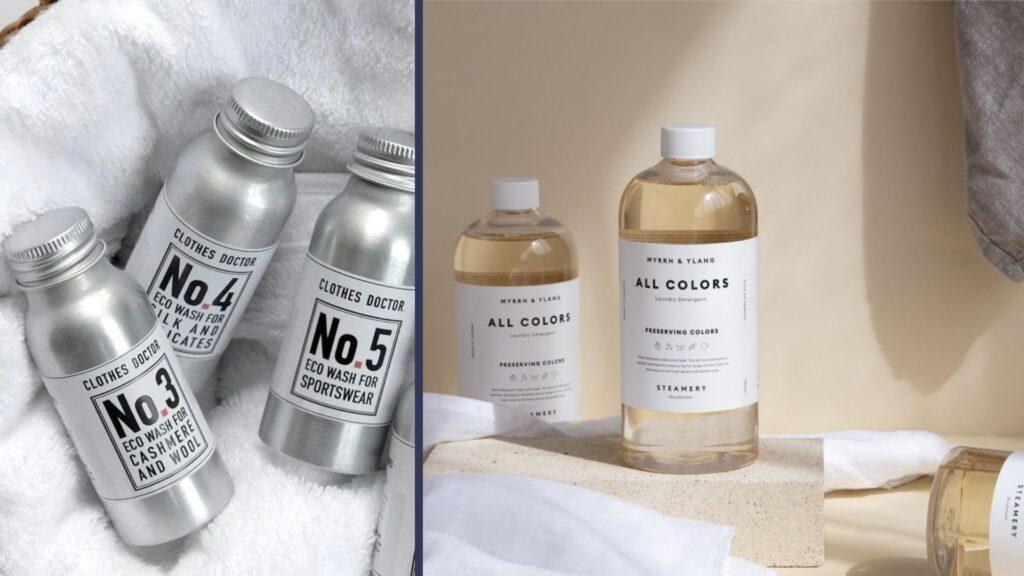 Tip 5: Wash your clothing inside out and less often
Ok, so this is a bit of a two in one. Washing your clothing inside out will help protect and preserve the colours and textures of your clothing, i.e., reducing piling (the tiny balls of fibre on the surface of clothing). It will importantly also help prevent buttons and zippers from damaging other clothing.
The washing and drying process causes premature wear, fading, shrinkage and impairs the inherent elasticity of tapes and mixed materials. Because of this, items like your slim fit jeans will begin to wrinkle over time. In general, most garments can be worn multiple times before washing. As a result, appearance and strength are better preserved and you'll use less water too.
Tip 6: Air dry your clothing whenever possible

Whilst using a tumble dryer might be convenient and time-saving, it's a massive cause of shrinking and damaging clothes. It certainly reduces the lifespan of a lot of clothing. If you must use a dryer, choose a lower setting to reduce heat exposure. Exceptions are underwear, socks, sportswear, towels and bedding: Higher temperatures kill germs better on fabrics that adhere directly to the skin.
Tip 7: Hang your clothing instead of folding them

Hanging your clothing will help it retain its shape and prevent wrinkles. To prevent shoulder bumps caused by the end your clothing draping awkwardly over the end of the hanger hang your clothes following the simple instructions below.

Folding your jeans and some of your trousers won't always cause an issue, but certainly try and hang your best clothes to preserve their appearance for when you put them on.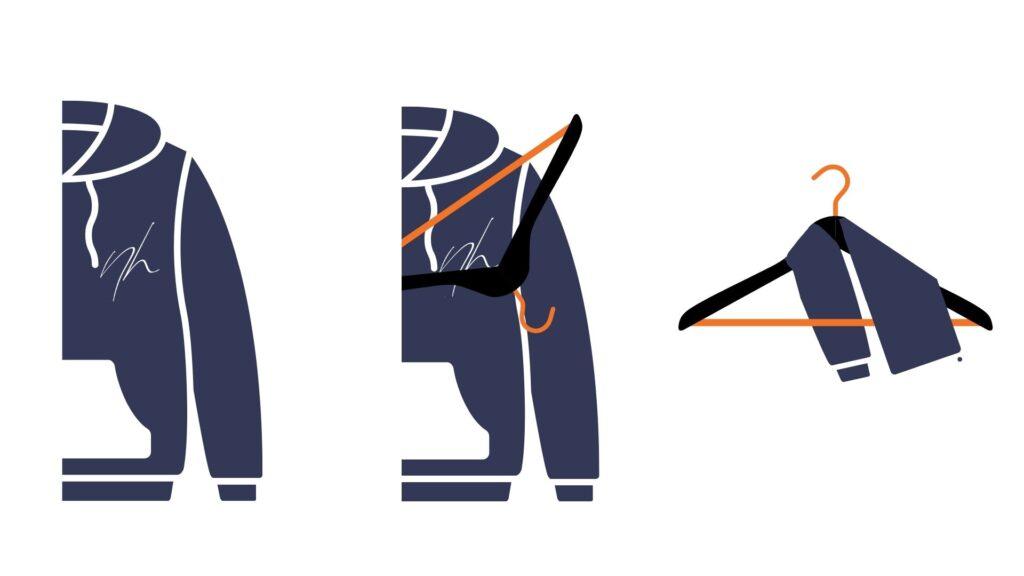 Ironing also shrinks clothes and can leave shiny stains on clothes, a sign of overheating. To remove wrinkles,  use a lower setting or steam the garment – this can be done with a handheld device or by hanging the garment in the bathroom the next time you shower.
When you are not wearing your clothing, store it properly to prevent it from fading, shrinking, or becoming damaged.
Tip 9: Store clothes smartly
In general, avoid storage conditions where garments are exposed to direct light, this will make them fade quickly. Packing your clothes into tight spaces can create wrinkles not easily removed, will increase friction and wear, and could even make them susceptible to mold.

Moth balls are a common problem with stored clothes and there is plenty on the market that you can hang in wardrobes or place in draws. Cedar blocks, balls or even hangers can be placed into wardrobes easily, lavender sachets, moth proof garment bags. If the problem is bad then moth repellent sprays can also be used.
Tip 10: Repair small tears and holes and treat stains immediately
Small tears and holes can quickly become larger if they are not repaired right away. Repair them as soon as you see them to prevent them from getting worse.
Act on any stains immediately by blot or rubbing them before washing them ASAP. Two common ways to do this are as follows. Pre-treating your clothes with a stain remover, dish soap or laundry detergent can act as viable alternatives to a stain remover. Use a stain remover pen, these are a good alternative because they can easily be carried around with you during the day, especially if you have children that choose the 'messy play life' when you're out with them.
By following these 10 top tips, you can help your clothing last longer and potentially add years to the life of your clothing.

So, allow these tips to influence the treatment of your clothes moving forward, not just the clothes you have but also in your buying decisions when shopping.